OP Chamber Signature Events
The OP Chamber has a variety of annual events which provide members the opportunity to interact with other business professionals and to learn more about our community.
Wednesday Wake Up - 2nd Wednesday of each month
Working Lunch - quarterly lunch held at member restaurants
OP After Hours - quarterly after hours event hosted at Overland Park's most unique venues
Young Professionals Mix & Mingle- after hours networking event for Young Professionals
Leads Groups - opportunity to meet in a small group to exchange leads and business referrals
Ribbon Cuttings & Ground Breakings - frequent ceremonies to celebrate new and growing business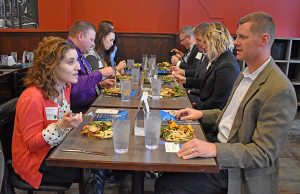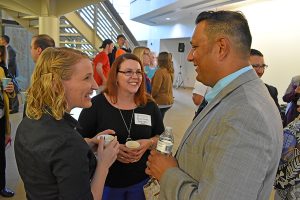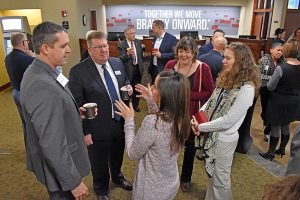 Executive Leadership Series - quarterly breakfast featuring leadership insight from top executives
Leadership Overland Park - annual six month program to develop future leaders
Young Professionals - Educate to Elevate: frequent afternoon programs offering career and personal development
Business Education - frequent programs on topics relevant to today's business
Mayor's State of the City
Hear the Mayor's progress report on accomplishments from the previous year and plan for the year ahead. This event is usually held in February or March. One of the who's who events of the year!
It may be hot on the links in August, but so are the connections! Join 36 teams of four on the golf course for a day of golf and networking.
Good Morning, Overland Park!
Rise and shine and join us for breakfast to hear the good news about developments taking place all over Overland Park, in a fast-paced program presented by business and government representatives. Good Morning Overland Park typically takes place in the fall.
Celebrate the year's accomplishments and look to the future at the Chamber's Annual Meeting. This December luncheon event is the Chamber's largest event of the year.
For more information about Overland Park Chamber Events,
please contact us at (913) 491-3600 or opcc@opchamber.org.