Our community has been ranked at the top of dozens of national rankings because of its attractive and safe neighborhoods, low taxes, nationally-ranked public schools, state-of-the-art health care, and diverse cultural and recreational amenities.
Overland Park residents are fortunate to have numerous state-of-the-art health care and wellness options with major medical centers and more than 2,000 highly qualified physicians just minutes away.
With an abundance of unique recreation, arts and culture amenities, Overland Park residents can find a new and exciting experience every day.
Moving to Overland Park? Check out our new residents guide!
Public Schools
The three public school systems serving Overland Park residents – Blue Valley, Shawnee Mission and Olathe – consistently rank among the best in the nation.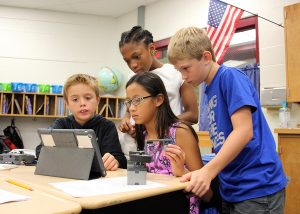 In ACT exams taken in 2015, students from all three school districts had scores far exceeding state and national averages. Compared to the state average of 21.9 and the national average of 21, Blue Valley's composite score was 25.4 (the highest in district history); Olathe's was 24 and Shawnee Mission's was 23.8. 
Each district consistently receives high marks from the Kansas Department of Education and meets the Adequate Yearly Progress (AYP) set for No Child Left Behind (NCLB).
Blue Valley School District* – USD #229
Enrollment: 22,251 students
Facilities: 21 elementary schools, 9 middle schools, 5 high schools, Blue Valley Academy, Center for Advanced Professional Studies, Parents as Teachers, Access Program, Hilltop Campus
Graduation rate: 96.6%
All five of Blue Valley's high schools made Newsweek's top public high schools list, the Washington Post's most challenging high schools list, and The Daily Beast's list of America's top high schools. 2014 Blue Valley graduates posted the top ACT score of Kansas City metro area school districts and the highest score in district history, with a composite score of 25.3. 2014 graduates also recorded the highest composite SAT score in district history with an average score of 1864, which exceeds state and national averages. Blue Valley schools have received the Presidential School of Service Award 162 times for student volunteerism since its inception in 2006. Blue Valley Schools' innovative Center for Advanced Professional Studies (CAPS) is a nationally-recognized program in which students are fully immersed in a professional culture and mentored by actual employers to solve real world problems while receiving high school and college credit.
Olathe School District* – USD #233
Enrollment: 30,299 students
Facilities: 36 elementary schools, 10 middle schools, 5 high schools
Graduation rate: 91.2%
USD #233 is the second-largest school district in Kansas. Student test scores consistently rank among the top 10 percent in the nation with ACT and SAT scores above state and national averages. Olathe has earned 18 National Blue Ribbon School Awards from the U.S. Department of Education and a Gold Medal rating from Expansion Management magazine given to top districts nationwide. Olathe is the only district in the state to achieve top honors (Level III) from the Kansas Award for Excellence Foundation. The district has received two national awards for outstanding professional development for teachers, and is home to two 2014 Horizon Award winners, the 2013 Kansas Superintendent of the Year, a 2013 Master Teacher, the 2012 Kansas Teacher of the Year, and the student co-champion of the 2015 Scripps National Spelling Bee. The district offers the innovative 21st Century High School Programs, including aerospace and engineering, biosciences, geosciences and e-communication.
Shawnee Mission School District* - USD #512
Enrollment: 27,248 students
Facilities: 34 elementary schools, 5 middle schools, 5 high schools
Graduation rate: 90%
Shawnee Mission is one of the largest school districts in Kansas, serving students in 14 communities. Shawnee Mission students outperform state and national peers on college entrance exams and other assessment measures. Fifteen district students were named semifinalists by the 2016 National Merit Scholarship Program. Shawnee Mission students and staff members have been recognized by The Presidential Scholars Program, The Intel International Science and Engineering Fair, The National Merit Program, The National Scholastic Press Association/Journalism Education Association, and the Kansas Master Teacher program. Seniors in the class of 2015 earned scholarship offers totaling more than $32 million. Through the district's digital learning initiative, all K-12 students receive a tablet or laptop to support their learning. Shawnee Mission is the only district in Johnson County to offer International Baccalaureate. The district also offers signature programs of specialized study in areas including engineering, medical health sciences, biotechnology, and culinary arts. These career-focused programs provide students the opportunity to work side-by-side with professionals in high-demand fields and gain hands-on experience in the working world.
---
Overland Park Public School District Stats
| | | | |
| --- | --- | --- | --- |
| Statistical Category | Blue Valley | Olathe | Shawnee Mission |
| Enrollment | 22,251 | 30,299 | 27,248 |
| Employees | 3,436 | 4,637 | 3,691 |
| Schools | 35 | 51 | 44 |
| Attendance Rate | 95.9% | 98.4% | 93.8% |
| Graduation Rate | 96.6% | 91.2% | 90% |
| Average ACT Score | 25.2 | 23.3 | 23.8 |
| National Merit Finalists | 54 | 11 | 13 |
| Teachers with Master's Degree or Higher | 73% | >74% | 78% |
| Advanced Placement (AP) Classes Offered | 22 | 18 | 22 |
Sources: Kansas State Department of Education, Overland Park Chamber of Commerce 2018 Directory, CERI, Blue Valley School District, Olathe School District, Shawnee Mission School District.
Statistics updated June 2020
---
Private Schools
Overland Park is fortunate to have numerous parochial and secular schools that offer educational options. Area students can choose from a variety of private school options:
*Overland Park Chamber Member
Higher Education
Overland Park is home to the state's largest institution of higher education: Johnson County Community College, where more than 44,000 students are enrolled in credit and continuing education each semester. The University of Kansas and numerous other colleges and universities have satellite campuses in Overland Park where working professionals can acquire an additional academic degree, keep up with current business trends or embark on a new career path. Many of the institutions offer evening and weekend classes affording Overland Park residents the opportunity for life-long learning. You don't even have to enroll as a full-time student to take advantage of the knowledgeable faculty, extensive libraries and research tools at Overland Park's higher learning institutions.
---
The Johnson County Education Research Triangle (JCERT) was created in 2008 by a 1/8-cent, voter-approved sales tax increase that supports focus on research, science and technology for the county. Funding from this tax goes to support buildings, programs and research at the KU Edwards Campus Business, Engineering, Science and Technology (BEST) Building in Overland Park, Kansas State University International Animal Health and Food Safety Institute in Olathe and the KU Clinical Research Center in Fairway . The Triangle will have economic impact of more than $1.4 billion over the next two decades and will attract millions of dollars in private and public donations and research grants.
---
Johnson County Community College* (JCCC) is one of the country's largest, single-site community colleges. Founded in 1969, JCCC has an undergraduate enrollment of 18,373, 1,000 full-time faculty and staff and 1,900 adjunct faculty and part-time staff.
JCCC is nationally recognized for its academic programming and workforce development initiatives. The college offers more than 80 certificate programs and 400 continuing education courses. JCCC works directly with local companies, community members and economic development organizations to tailor training courses based on specific needs. While academia is JCCC's main focus, the college also offers 7 varsity sports programs (men's and women's soccer, men's and women's basketball, baseball, softball, and women's volleyball), is home to the renowned Nerman Museum of Contemporary Art and offers a premier Performing Arts Series. In 2019, JCCC opened the Fine Arts and Design Studio (FADS) building, strengthening the resources it can provide to students.
JCCC Education Centers:
---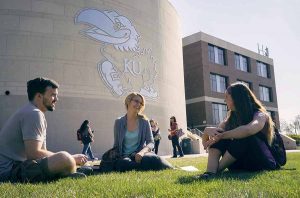 Opened in 1993, The University of Kansas Edwards Campus* caters to working professionals and local area students who want to continue their education. With approximately 2,000 students and 250 faculty members, KU Edwards offers undergraduate and graduate programs, focusing on late afternoon and evening classes to cater to the working professional.
In 2012, KU Edwards Campus opened its Business, Engineering, Science and Technology (BEST) building, an initiative of the Johnson County Education Research Triangle, where it offers programs focused on business, engineering, science and technology.
---
Other colleges and universities in Overland Park and nearby:
*Overland Park Chamber Member
Healthcare
Overland Park residents are fortunate to be just minutes from numerous major medical centers and more than 2,000 highly qualified physicians. Besides five major hospitals and a pediatric hospital, numerous outpatient clinics, emergency medical facilities and wellness programs serve the community. The community's health care facilities boast the most advanced technology available, including specialties in neonatal care, organ transplants and oncology.
Prepared to meet the needs of an aging population, Overland Park has nearly two dozen skilled-nursing facilities. And more than 20 home health companies serve the needs of those ill or recovering at home.
AdventHealth Shawnee Mission
9100 West 74th Street, Shawnee Mission, KS 66204
Shawnee Mission Health (SMH) is a network of health care facilities and services offered throughout the Kansas City metropolitan area and surrounding communities. The network includes Shawnee Mission Medical Center (SMMC), a 504-bed facility with nearly 20,000 inpatient admissions and more than 200,000 outpatient admissions annually; SMH–Prairie Star, a comprehensive health care facility in western Lenexa; as well as physician practices throughout Johnson County. SMH serves nearly 70,000 patients in its emergency departments annually, has the area's first accredited Chest Pain Emergency Center and delivers more babies each year at SMMC than any other hospital in the metro. The network employs more than 3,000 local residents and supports an exceptional staff of 700 physicians representing 50 medical specialties, the largest medical staff of any full-service hospital in Kansas City.
Beds: 395
Children's Mercy Hospital Kansas
5808 West 110th Street, Overland Park, KS 66211
The only free-standing pediatric hospital in Kansas, Children's Mercy Hospital Kansas brings nationally-recognized pediatric expertise closer to families in the southern part of the metro. All services – inpatient care, emergency care, more than 20 specialty clinics, surgery, imaging center, laboratory and support services – are dedicated exclusively to caring for children.
Beds: 52
Menorah Medical Center
5721 West 119th Street, Overland Park, KS 66209
Menorah Medical Center is a full-service, acute-care hospital providing compassionate care and some of the most advanced treatment options in the area. Menorah has a medical staff with more than 600 physicians covering the spectrum of specialties and offers exceptional experiences and extraordinary medicine. It offers a nationally accredited Comprehensive Bariatric Surgery Program. The Commission on Cancer accredits Menorah as a Comprehensive Community Cancer Program. The Breast Center at Menorah is fully accredited by the National Accreditation Program for Breast Centers.
Beds: 158
MidAmerica Rehabilitation Hospital
5701 West 110th Street, Overland Park, KS 66211
MidAmerica Rehabilitation Hospital offers comprehensive inpatient and outpatient rehabilitation services and treatments for a variety of conditions. It is accredited by the Joint Commission to provide specialized medical and therapeutic services. Combined with state-of-the-art technology, experience and knowledge, MidAmerica's services provide patients with the care they need to reach maximum levels of independence and function.
Beds: 98
Overland Park Regional Medical Center
10500 Quivira Road, Overland Park, KS 66215
Overland Park Regional Medical Center (OPRMC) is Johnson County's only Trauma Center and offers more than 550 physicians covering every medical specialty. OPRMC is home to one of the busiest women's centers, and the area's most advanced Level IIIb Neonatal ICU (NICU). OPRMC is a proud health care partner of the Scheels Overland Park Soccer Complex, The Kansas City Stars Youth Ice Hockey Club, Kansas City Christian School and Heartland Soccer Association, offering exclusive Athletic Training and Concussion Management services to keep kids safe on and off the field.
Beds: 351
Saint Luke's South Hospital
12300 Metcalf Avenue, Overland Park, KS 66213
This state-of-the-art facility features a 24-hour emergency room certified as a Primary Stroke Center, an award-winning Hip & Knee Center, an intensive care unit, NAPBC accredited Goppert Breast Center featuring 3-D mammography, inpatient and outpatient rehabilitation, Birth & Women's Center with Level IIIa NICU, advanced cardiac care, surgical weight loss center, the Jacobson & McElliott Diabetes & Endocrinology 
Center, and more than 600 physicians.
Beds: 125
St. Joseph Medical Center
1000 Carondelet Drive, Kansas City, MO 64114
St. Joseph Medical Center provides a wide range of acute care and outpatient services from a 24-hour emergency department to state-of-the-art cardiovascular care. The accredited Chest Pain Center utilizes the industry's best practices in cardiac care services to ensure patients receive treatment during the critical early stages of a heart attack. The Breast Center is recognized as a Breast Imaging Center of Excellence and has earned the Women's Choice award. The Joint and Spine Center has also earned the Women's Choice award. Other services include the Stroke Center, Birthing Center and Outpatient Therapy. St. Joseph has earned the Magnet designation from The American Nurses Credentialing Center for excellence in nursing services three straight times.
Beds: 310
Rehabilitation Hospital of Overland Park
5100 Indian Creek Parkway, Overland Park, KS 66207
The Rehabilitation Hospital of Overland Park is part of the Post Acute Medical network. The free-standing hospital offers inpatient and outpatient rehabilitation services for patients recovering from acute injuries and illnesses. With access to the latest rehabilitation technology, the hospital can provide treatment for a variety of conditions, including amputation, brain injury, stroke, Parkinson's disease and much more. The staff includes registered nurses, disease specialists, physical and occupational therapists and psychologists, among others.
Beds: 45
The University of Kansas Hospital
The University of Kansas Hospital is the region's premier academic medical center, providing a full range of care and leading-edge research. All twelve of its medical and surgical specialty areas are ranked nationally by U.S. News & World Report "Best Hospital" lists. The University of Kansas Cancer Center is a National Cancer Institute-designated program. The hospital also houses the region's only accredited burn center, the area's only nationally verified Level I Trauma Center and the area's first and only Advanced Comprehensive Stroke Center recognized by The Joint Commission. The 42,000-square-foot Indian Creek campus in Overland Park offers a full range of services including general surgery, orthopedics, plastic surgery, radiology, urology and pain management services. Also at the Indian Creek Campus are the Sports Medicine & Performance Center, Marc A. Asher Comprehensive Spine Center and The University of Kansas Cancer Center's Sarcoma Center.
Beds: 875
Housing
A steady increase in population and affluence in Overland Park over the past 50 years has resulted in some of the most desirable housing in the Kansas City metro area. The city has a relatively new housing stock. The median year a housing unit was built in Overland Park was 1986, compared to a median year of 1976 in greater Kansas City.
Through careful planning and development, Overland Park has all the criteria homebuyers seek: homes that retain their appeal and value, one of the nation's lowest crime rates, schools that rank among the best in the nation, the convenience of nearby shopping and accessibility to well-maintained highways and interstates.
In Overland Park, homebuyers value both high quality and affordability. The average appraised value of an Overland Park home is $342,337 (2019) and the average sales price is $382,762 (2019). Overland Park, as a whole, benefits from a high level of owner occupancy, as the citywide single-family home ownership rate was 63.4% in 2018.
The city's older neighborhoods are generally north of 95th Street, where well-maintained and picturesque homes date to the post-World War II migration of families from Kansas City's inner neighborhoods to the suburbs. These older neighborhoods offer first-time homebuyers excellent choices with prices starting around $140,000. To help maintain these historic neighborhoods, the City of Overland Park offers programs to assist homeowners with property maintenance.
Residential development has burgeoned south of Interstate 435, expanding the city limits as far south as 203rd Street. Real estate in southern Overland Park is ideal for those who want to invest in a larger, feature-packed home and are relocating from a more expensive market.
Newer options in the local housing market have been mixed-use developments where townhomes, condos, lofts and apartments share a village-like setting with retail and office space and entertainment venues, giving residents an urban lifestyle where they can walk to shops, dining, entertainment and everyday services. There are a number of new housing properties in and near downtown Overland Park, including Avenue 80, InterUrban Lofts, and The Promontory, with more housing options developing at locations like CityPlace.
| | |
| --- | --- |
|  Number of Housing Units: 84,469 (2019) |  Average Household Size: 2.4 (2019) |
Vacancy Rate: 5.8% (2018)
Average size of a new single-family home: 5,960 square feet
Average cost of a new single-family home: $297,400
Mean appraised value of a single-family residence (2018): $320,499
Mean selling price of a single-family residence (2018): $365,772
Median home value in the city is $261,200
63% of housing units are owner-occupied (2021)
Median rent (2021): $948
Source: City of Overland Park, American Community Survey, Johnson County, County Economic Research Institute (CERI), ESRI, U.S. Census Bureau
Lifestyle
With an abundance of recreation and arts opportunities, Overland Park offers new and exciting experiences every day. The city's 83 parks offer athletic fields and courts, playground equipment, picnic shelters, and miles of recreational trails. Two state-of-the-art community centers feature fitness equipment and programs as well as event space. The city also maintains six outdoor swimming pools and two public golf courses. In 2014, Overland Park welcomed more than 100,000 athletes, fans, and coaches for a variety of sporting events.
The Scheels Overland Park Soccer Complex is the only complex of its kind in the country and helped Overland Park be named the number one soccer city in the nation by Livability.com. The $36 million complex covers 96 acres and has 12 lighted, regulation-size synthetic turf fields that provide soccer players and fans a world-class experience. It hosts local, regional and national tournaments including the US Youth Soccer National Championships.
Blue Valley Recreation Commission operates an activity center and a recreation complex where youth and adults can enjoy sports, aquatics, dance, gymnastics, personal enrichment and fitness programs. Johnson County Park & Recreation District also offers year-round programs for fitness and recreation.
The Downtown Overland Park Farmers' Market is one of the most popular and longest-running farmers' markets in Kansas City and has been named the "Best Farmers' Market in Kansas." Besides providing farm-to-table food, the market also offers a vibrant public gathering place that builds community pride and spirit by bringing together residents of all ages and interests.
Families can spend hours together learning, having fun and enjoying memorable experiences at Deanna Rose Children's Farmstead or the Overland Park Arboretum and Botanical Gardens. At Deanna Rose, visitors can stroll 12 acres to interact with farm animals, tour a dairy barn, visit a one-room country schoolhouse and experience rural heritage. The 300-acre Arboretum is open year-round and has walking trails, themed gardens, an environmental education center, classes and educational programs.
Natural history and culture in our region and around the world can be explored at Overland Park's celebrated new Museum at Prairiefire, which features world-class traveling exhibitions organized by the American Museum of Natural History and a Discovery Room that offers children hands-on experiences to learn about the world around us.
The Johnson County Museum is located inside of the Johnson County Arts & Heritage Center. It contains local history and heritage through engaging collections, challenging exhibitions and captivating programs. Exhibitions include "Becoming Johnson County," the kid-sized history experience KidsScape and the changing exhibit gallery.
The arts – both visual and performing – flourish in Overland Park. As part of commitment to enriching residents' lives through arts and music, the City of Overland Park commissions public artworks for installation throughout the city and it also presents year-round arts programs. Johnson County Community College's Nerman Museum of Contemporary Art is the largest contemporary art museum in the four-state region. The college's renowned Oppenheimer Collection includes monumental sculptures across the campus as well as major paintings, photographs, and works on paper. Performing arts can be experienced at the college's first-class venues and at annual festivals featuring live musical entertainment. Under development in downtown Overland Park is the InterUrban ArtHouse, a multi-use art center for the community. Visitors and residents can also enjoy festivals featuring dancers, bands, and street performers throughout the year in the historic downtown neighborhood.
Arts and Entertainment

Golf Courses

 

Parks and Recreation

Public Libraries

Public Pools
For more information on things to do in Overland Park: Visit Overland Park & City of Overland Park
Retail
In 2015, Overland Park welcomed two first-to-market retail stores that had consumers buzzing with anticipation. SCHEELS, a 220,000-square-foot sporting goods store opened in Corbin Park and became an instant attraction with unparalleled retail options, as well as a Ferris wheel and an aquarium. The opening of The Container Store capped off the redevelopment of Hawthorne Plaza at 119th Street and Roe Avenue. Retail comprises 11 percent of business activity in Overland Park, which has nearly 18 million square feet of retail space. Overland Park boasts hundreds of locally-owned shops, along with nationally-recognized retailers and department stores. Retail sales have grown by 6.2 percent in the last two years to nearly $5 billion. Of the $14.4 billion in total retail sales in Johnson County in 2018, Overland Park was responsible for 34.6%.
Much of the city's retail development can be found along Metcalf Avenue, the city's historic main artery running north and south and along the east-west corridors of 95th, 119th, 135th and 151st streets. New developments along the Metcalf corridor include the Lowe's at 95th Street and the shops at Promontory between 89th and 91st Streets.
Committed to reinvigorating the Metcalf corridor, the City of Overland Park adopted Vision Metcalf, a long-range plan that encourages mixed-use development, integrated open and green space, and a balanced transportation system that embraces pedestrian usage and sustainability measures.
Downtown Overland Park blends the traditions of a Main Street setting with the more contemporary vibe of one-of-a-kind local shops, art galleries, restaurants, services, events and one of the city's most popular attractions: the Farmers' Market. Century-old buildings stand next to sleek new buildings. Several mixed-use development projects are in the works that will bring multi-family units with ground-floor retail space, promising to increase the activity and vibrant atmosphere of the city's heart.
Overland Park has numerous indoor and outdoor shopping centers. At 1.5 million square feet, Oak Park Mall is the largest enclosed mall in both the Kansas City metro area and the entire state of Kansas. American Girl, LEGO and Microsoft are among its 200 stores and restaurants. Other open-air shopping centers, such as Hawthorne Plaza, Rosana Square and the Shoppes at Deer Creek Woods, offer upscale stores and dining.
The new hot spot for retail in Overland Park is 135th Street where the city's most active retail developments, Prairiefire and Corbin Park, sit side by side between Metcalf Avenue and Nall Avenue. Prairiefire is a 58-acre mixed-used project that integrates residential, office, retail and entertainment. Corbin Park is a 1.1 million-square-foot retail village with Tuscan-inspired architecture and tree-lined courtyards. Its anchor stores include Von Maur, JC Penney and SCHEELS, which offers the state's largest selection of sporting goods.