Chamber representatives meet with national leaders in Washington, D.C.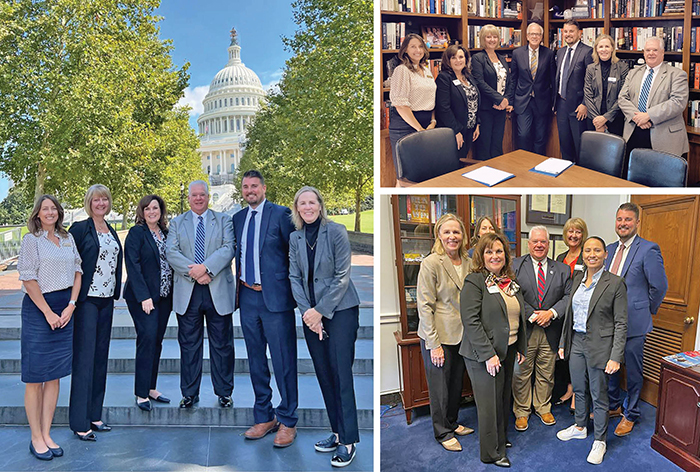 Overland Park, Kan., September 25, 2023 – Chamber leaders recently returned from Washington, D.C. where they met with our federal elected officials. Not surprisingly, workforce challenges topped the list of issues they took to the nation's capital. "Our members continue to share with us the challenges they have filling vacancies," said Chamber Executive Vice President and Chief Policy Officer, Kevin Walker. "Simply put, we don't have enough workers to fill the available jobs and it was important that we deliver this message to Capitol Hill."
The Chamber delegation discussed how legal immigration reform – including greater access to H1B and H2B Visas - is critical to key sectors of Overland Park's business community getting the workers they need. Beyond raising the visa caps that haven't been adjusted since 1990, the group also discussed the importance of tapping into other sources of workers through comprehensive legal immigration reform. "The entire immigration system is outdated and is in desperate need of reform," Walker said. "It is through sensible reforms that we can help address our worker shortage problem regardless of industry."
While meeting with United States Senators Jerry Moran and Roger Marshall, and United States Representative Sharice L. Davids, the Chamber delegation also raised concerns with the United States Postal Service and access to international travel documents. "Many businesses still rely on the postal service for timely delivery of invoices, checks, and critical business documents, and delays in postal deliveries are creating challenges for businesses of all sizes," said Tracey Osborne Otjen, Chamber President and CEO. "We've also found that delays in accessing passports and other international travel documents are creating hardships for businesses as they arrange to send employees on international business trips."
Joining Osborne Oltjen and Walker were Josh Beck, MarksNelson; Cindy Rock, C2FO; Kim Winslow, Evergy; and Reagan Cussimanio, The University of Kansas Health System.
# # #
We bring people together. Lead the hard conversations. Tackle the big issues. We work every day to make Overland Park the best place to build a business, a career and a home.
(913) 491-3600  |  www.opchamber.org