FOR IMMEDIATE RELEASE
Contact: Corey Cohn, ccohn@opchamber.org or (913) 766-7605
State and local officials break ground on former Brookridge site, Meridian – Kansas's largest mixed-use development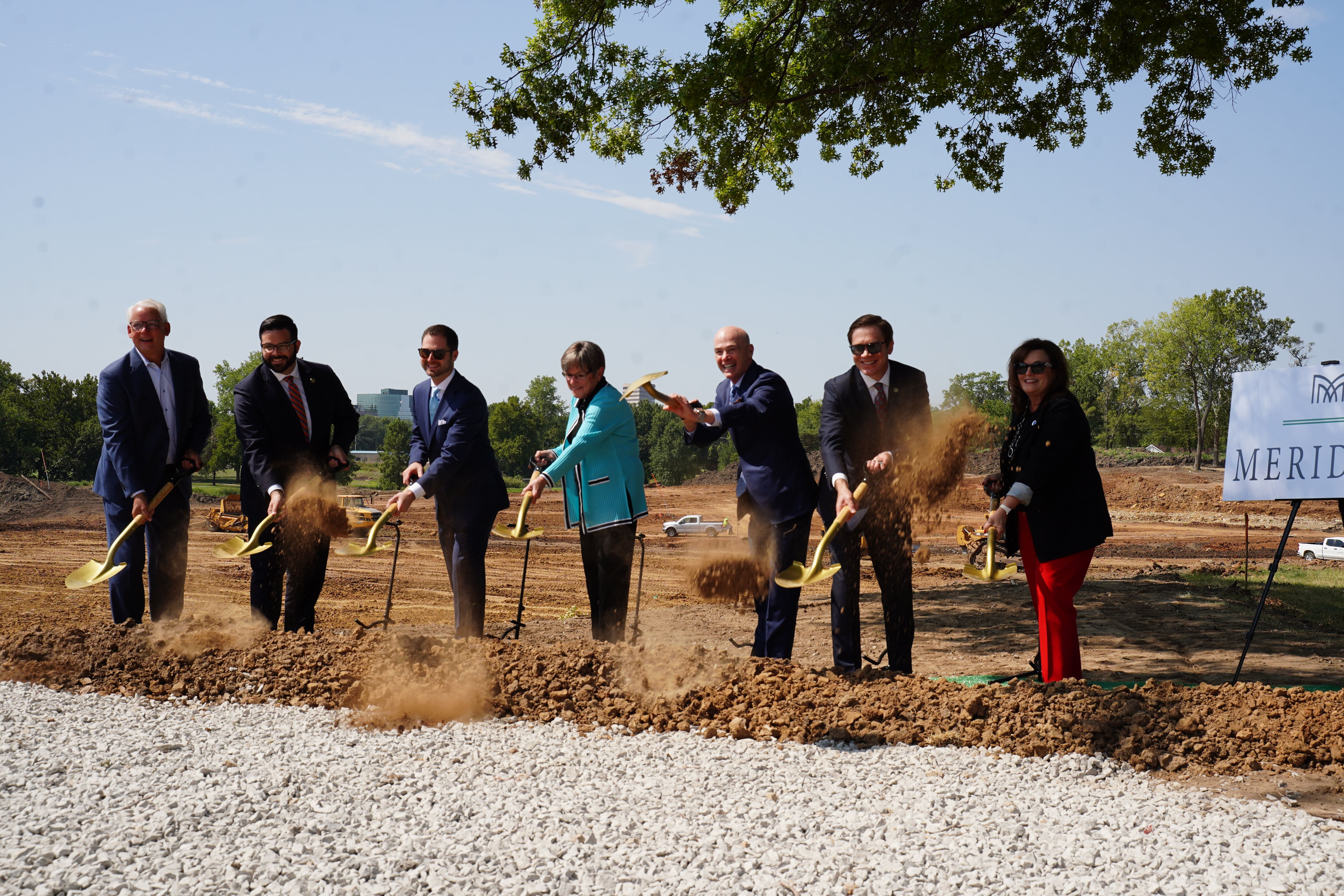 (Overland Park, Kan.) August 29, 2023– Governor Laura Kelly joined Curtin Property Company, Johnson County elected officials, local city officials, the Overland Park Chamber of Commerce, and business leaders today at 103rd and Antioch to commemorate the development of the former Brookridge site.
The $2 billion multiphase mixed-use complex is one of Kansas' largest and most ambitious. In conjunction with the groundbreaking, the property's new name, Meridian, was revealed.
The first development phase includes infrastructure work, two mixed-use residential/retail buildings, a grocery store, retail and restaurants, and usable green space.
The Kansas Department of Commerce's Building a Stronger Economy program has awarded the project a $10 million grant. In addition, the Kansas Department of Transportation's Economic Development Program provided a $8 million grant to prepare roadways, sewage drainage, and other infrastructure. The infrastructure and utilities construction is planned to be completed in the fall of 2024.
This project will comprise a total of 4.8 million square feet of office space, 2,000 dwellings, a pair of hotels, and an array of retail, dining establishments, and entertainment locations. The 200-acre site will be centered on wellness and healthy living, with more than 100 acres of practical outdoor space that will feature fountains, golf, fitness centers, walking paths, and connections to hiking and bike trails. In addition, Meridian is expected to include around 16,000 jobs in office and retail areas.
Overland Park Mayor Curt Skoog stated, "Current residents are drawn to Overland Park because of the sense of community our neighborhoods provide." Future residents will be drawn to the area for a similar reason. I'm looking forward to experiencing that sense of community at Meridian, a location where I can live, work, and play all within walking distance of one another. I'm excited to be here this week with the Meridian team to celebrate the start of this sort of development and the economic impact it will have on Overland Park and the neighboring communities."
# # #
We bring people together. Lead the hard conversations. Tackle the big issues. We work every day to make Overland Park the best place to build a business, a career and a home.
(913) 491-3600  |  www.opchamber.org