FOR IMMEDIATE RELEASE
Contact: Stan Lawson, slawson@opchamber.org or (913) 766-7601
Bluhawk breaks ground on $750M multi-sport complex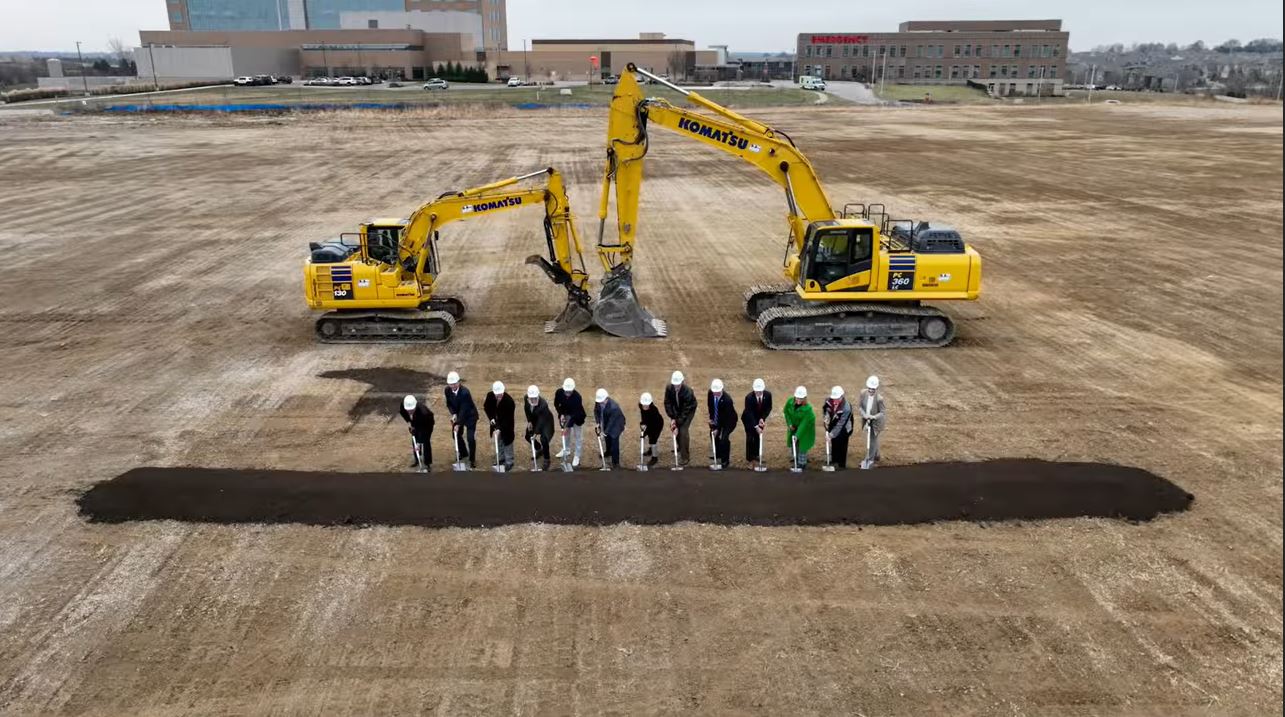 (Overland Park, Kan.) Dec. 7, 2022 - Bluhawk celebrated its groundbreaking this morning on their gigantic $750 million indoor sports complex at 159th Street and US Highway 69 in Overland Park.
The first phase of the multi-sport facility, dubbed AdventHealth Sports Complex at Bluhawk at today's groundbreaking ceremony, will comprise four basketball courts, eight volleyball courts, eight pickleball courts, and an indoor turf field for soccer, futsal, baseball, football, rugby, and lacrosse. There will be eight batting cages, eight throwing lanes, and an infield training area in the indoor baseball training zones.
The 277-acre mixed-use complex will be completed in two phases and will be funded both privately and via the use of roughly $55 million in STAR bonds. It will be centered by a community shopping center with an existing grocery store, restaurants, and retail. The sports complex's general contractor is VCC, and the architect is Klover Architects.
"The Bluhawk development is on the leading edge of youth and amateur competitive and recreational sports in Kansas City and across the country. Not only will we create meaningful economic impact through sports tournaments and large events, we will (also) offer programs to enhance the health, wellness and recreation opportunities of local athletes, children and families," said Kent Price, president of Price Brothers, the project's developer.
Individual and team training will be available for amateur to professional athletes, as well as a range of programs for participants of all ages, including fitness classes, wellness activities, sports medicine, massage, functional training, nutrition, and physical therapy.
The venue will feature two on-site food and beverage options, as well as family entertainment and e-sports. Bluhawk will also host child and adult amateur hockey leagues, as well as one of the only regulation-size ice sheets in the area. On-site shooting lanes, a passing area, and skate rentals will also be available.
In addition to serving the area's expanding number of youth hockey players, the ice sheet will be accessible for public skating, including activities such as skating camps and lessons.
According to a statement, the Advent Sports Complex at Bluhawk is planned to open in the autumn of 2024 and will provide an estimated 3.8 million dollars in economic impact to Overland Park from emerging market athletics and earnings in its first year of operation.
Graduations, state sporting contests, and expos will be held in the 3,500-seat arena, which will also be able to host student and family-oriented events.
# # #
We bring people together. Lead the hard conversations. Tackle the big issues. We work every day to make Overland Park the best place to build a business, a career and a home.
(913) 491-3600  |  www.opchamber.org