FOR IMMEDIATE RELEASE
Contact: Stan Lawson, slawson@opchamber.org or (913) 766-7601
CityPlace breaks ground for office building to support expansion of WellSky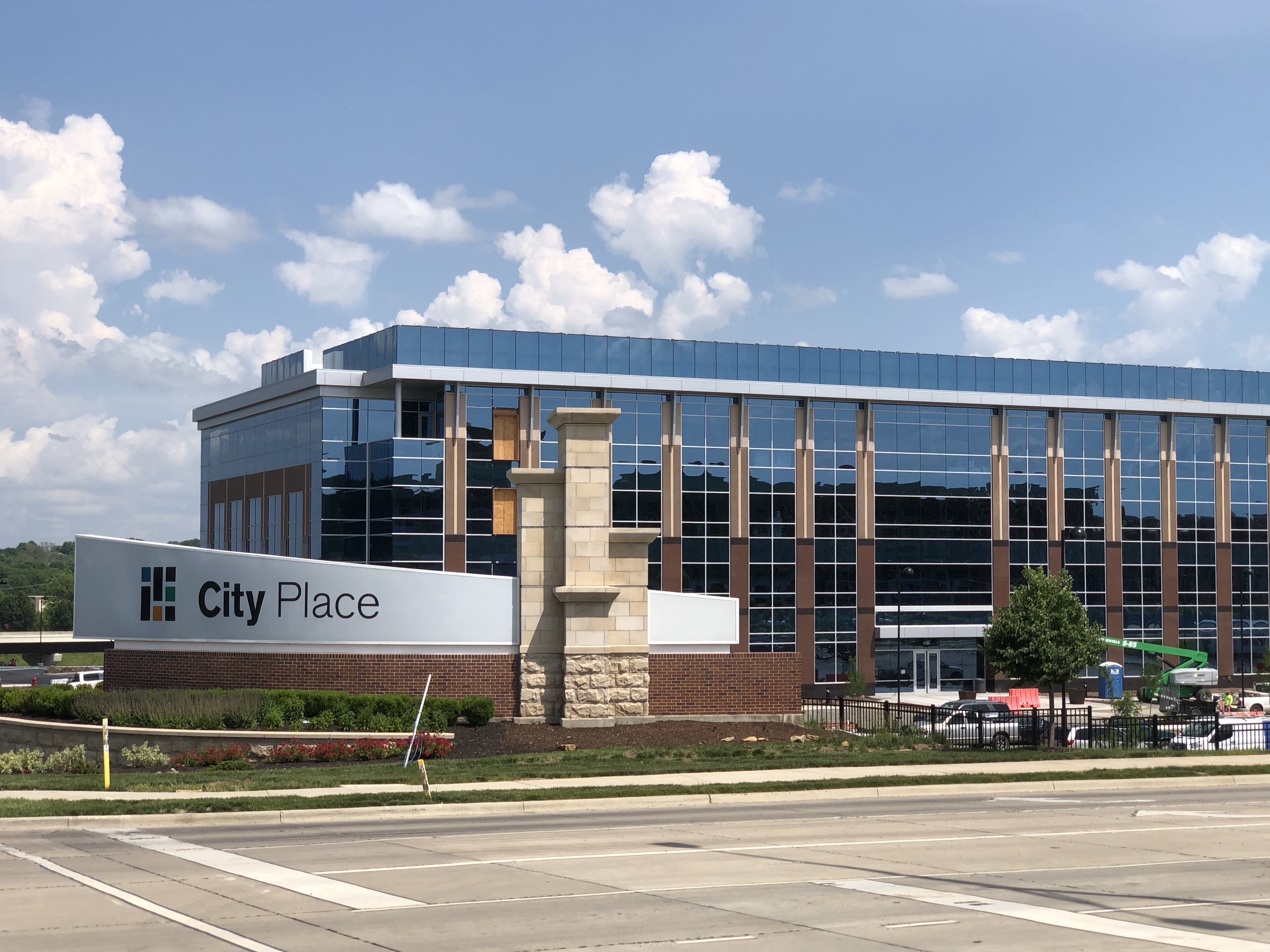 (Overland Park, Kan.) June 28, 2022 – With a ceremonial first turn of the soil, today marks the start of construction of Class A office building Corporate Centre IV at Block Real Estate Services' CityPlace, a mixed-use development in Overland Park, Kan. The latest addition to the 90-acre development will support one of Kansas City's fastest growing companies, WellSky®, a leading health and community care technology company, which moved its corporate headquarters to CityPlace Corporate Centre III in 2019.
The building features 190,380 square feet and is the third of four Class A office buildings to be constructed within the mixed-use development. Once complete, CityPlace will feature up to 600,250 square feet of office space, 1,382 multifamily units, 140 senior units, and up to 60,000 square feet of retail space located at the southwest corner of College Boulevard and Highway 69 in Overland Park. "I feel so proud that the vision we had for CityPlace has really taken flight, thanks in large part to partners like WellSky, who are innovative thinkers themselves," said Block Real Estate Services Managing Principal Ken Block. "We are honored to accommodate WellSky's growth and expansion in Overland Park at our third office building here at CityPlace."
CityPlace Corporate Centre IV, constructed by Titan Built, designed by Hoefer Welker Architects and developed by Block Development Company, will include a blend of granite and precast panels and reflective glass in a modern design. This highly visible and accessible site is one of the last remaining office development parcels along the entire College Boulevard corridor.
WellSky will occupy approximately 70-percent of the space in CityPlace Corporate Centre IV. When the building opens, the company will retain its current 120,000-square-foot office space at CityPlace Corporate Centre III. "This expansion of our world headquarters is an exciting milestone for WellSky and a tangible demonstration of the increasing demand for our award-winning software solutions, analytics, and services," said WellSky CEO Bill Miller. "With our teammates' steadfast dedication to clients and relentless pursuit of innovation, WellSky is well positioned to enter this next phase of growth. Together, we are changing the future of care delivery and enabling the health and wellness of our communities." Since 2017, WellSky has experienced tremendous growth in all aspects of its business. The company has more than quadrupled its teammate size in Overland Park and has plans to hire an additional 1,000
teammates.
About Block Real Estate Services, LLC
Block Real Estate Services, LLC (BRES) is a full-service commercial real estate company managing more than 42 million square feet of retail, office, industrial property and over 7,500 units of multifamily property for equity partnerships and third-party owners. BRES's portfolio of services continues its role as the most comprehensive commercial real estate firm in Kansas City by providing and specializing in: real estate brokerage services, tenant representation, investment services, asset and property management, economic incentives consultation, financial services, construction and development
services, and the Block Funds.
For more information about CityPlace, visit www.cityplacekc.com. For more information about Block Real Estate Services, LLC, visit www.blockllc.com.
About WellSky®
WellSky is a technology company leading the movement for intelligent, coordinated care. Our next generation software, analytics, and services power better outcomes and lower costs for stakeholders across the health and community care continuum. In today's value-based care environment, WellSky helps providers, payers, health systems, and community organizations solve tough challenges, improve collaboration for growth, harness the power of data analytics, and achieve better outcomes by further connecting clinical and social care. WellSky serves more than 20,000 client sites — including the largest hospital systems, blood banks, cell therapy labs, blood centers, home health and hospice franchises, post-acute providers, government agencies, and human services organizations. Informed by more than 40 years of providing software and expertise, WellSky anticipates clients' needs and innovates
relentlessly to ultimately help more people thrive. For more information, visit wellsky.com.
# # #
We bring people together. Lead the hard conversations. Tackle the big issues. We work every day to make Overland Park the best place to build a business, a career and a home.
(913) 491-3600  |  www.opchamber.org