Leadership Overland Park class presents program on mental health and teen suicide prevention
Overland Park, Kan., May 31, 2022 – The Leadership Overland Park Class of 2022 hosted an evening focused on teen mental health and suicide prevention for their class service project.
The Leadership class designed the event to help the nearly 100 attendees find ways to talk openly about the difficult subjects and also walk away with coping strategies.
"Every year each Leadership Overland Park class works together to decide what they want to leave behind or work on as a service project for the community to define their class," Tim Holverson, director of workforce & business growth for the Overland Park Chamber of Commerce shared.
"As we were coming out of the pandemic, we were acutely aware that this has been a difficult time for families and students and we wanted to focus on raising awareness and helping to educate our community on these difficult subjects," Bob Lambrechts, class member, noted.
The event was hosted at the Shawnee Mission South High School in late May, with Tim DeWeese, Johnson County Mental Health director, serving as a panel moderator. The panel included Dr. John McKinney, director of student and family services for the Shawnee Mission School District, Tracy Foster, co-founder and executive director for START, Sylvia Harrell and BJ Thomas-Wilson, #GiveMe20 founders, Katherine Koplik, Blue Valley North senior, and Amanda Lewis, Blue Valley West freshman.
DeWeese led the discussion focused on connecting with caring adults and building authentic human relationships.
"We need to treat mental health like physical health, and talk more openly about it," DeWeese noted.
DeWeese and Foster also discussed the emerging understanding of Digital Health, noting only 14% of teenagers feel they have made a meaningful connection with an adult. Screen time for children as well as their parents is an issue.
The evening concluded with a #GiveMe20 presentation by Harrell and Thomas-Wilson. They shared their mission to educate teens and the people who love them about how 20 minutes can make all the difference. They host workshops for middle and high school students where participants create a "lifebox" filled with great moments, dreams for the future, and reminders of why life matters.
Amanda shared her lifebox and letters she had received from classmates. "#GiveMe20 helped me realize the importance of talking about mental health and suicide and breaking the stigma that is associated with it," Lewis shared.
Guests were invited to donate to #GiveMe20 to help facilitate more workshops in the community. Donations are being accepted through July 15, 2022, to the Overland Park Chamber Foundation and will be directed to #GiveMe20 at this link.
Leadership Overland Park is a program provided through the Overland Park Chamber Foundation. It was established to develop leaders who are passionate about the future of their city and community.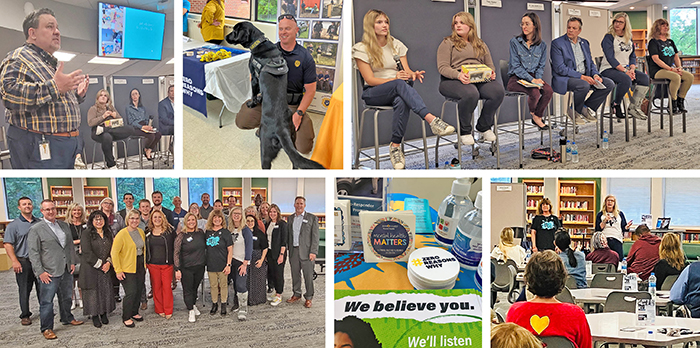 # # #
We bring people together. Lead the hard conversations. Tackle the big issues. We work every day to make Overland Park the best place to build a business, a career and a home.
(913) 491-3600  |  www.opchamber.org