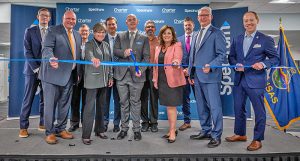 Nearly $5 Million Invested in New State-of-the-Art Facility
Hiring Underway for More Than 650 Positions     
OVERLAND PARK, Kan. — Gov. Laura Kelly and Overland Park officials joined Spectrum for a ribbon-cutting ceremony to celebrate the opening of Spectrum's new state-of-the-art retention center. The $4.94 million, 80,000 square-foot facility will house representatives who handle calls from existing customers with Spectrum Internet®, TV, Mobile and Voice services from across the company's 41-state service area.
Spectrum plans to hire 655 representatives and management positions at its Overland Park location. So far, more than 140 positions have been filled, with additional hiring underway for the remaining 515 openings.
"Spectrum's decision to expand and create more than 600 new jobs in Overland Park is one more proof point that Kansas is open for business," said Gov. Laura Kelly. "By employing more of our state's talented workforce, Spectrum is spurring the economic development that enables our state — and the Overland Park community — to thrive."
These full-time, growth-opportunity roles offer competitive base pay, with lucrative commissions and incentive opportunities. Representatives who reach their targets can earn more than $55,000 annually; top performers have even higher earning potential. Spectrum also provides comprehensive health benefits, and for the past nine years, has absorbed the full annual cost increase of medical, dental and vision coverage.
The company also offers employees a market-leading retirement plan, with a 401(k) that matches the first 6% of employee contributions, plus a Retirement Accumulation Plan with an additional 3% company contribution, for which most employees are eligible. Spectrum employees also can receive up to $5,250 per year in education assistance, as well as complimentary and discounted Spectrum services.
"Our inbound retention team plays a vital role in matching services to the customer's needs," said Brian Blust, Vice President of Residential Retention at the Overland Park center. "We are looking for people who are ready to build a career with our team in the Kansas City area, as we meet the growing demand from our high-value Spectrum customers."
"Spectrum's decision will create more high-quality jobs in Overland Park," said Mayor Curt Skoog. "By adding hundreds of new jobs locally, Spectrum is helping us create a strong economic foundation to retain top talent and grow business."
Spectrum is hiring for these and other positions in the Kansas City area. Candidates are asked to apply online at Spectrum's careers site. Potential employees should have a high school diploma or equivalent, with previous sales experience preferred. Candidates may be asked to complete a drug test, education verification and criminal background check.
Charter Communications, Inc., which offers services under the Spectrum brand, provides equal opportunities for employment and advancement to qualified employees and applicants. Individuals will be considered for positions for which they meet the minimum qualifications and are able to perform without regard to race, color, gender, age, religion, disability, national origin, veteran status, sexual orientation, gender identity, current unemployment status, or any other basis protected by federal, state or local laws.
About Spectrum
Spectrum is a suite of advanced communications services offered by Charter Communications, Inc. (NASDAQ:CHTR), a leading broadband connectivity company and cable operator serving more than 32 million customers in 41 states. Over an advanced communications network, the company offers a full range of state-of-the-art residential and business services including Spectrum Internet®, TV, Mobile and Voice.
More information about Charter can be found at corporate.charter.com.
# # #
We bring people together. Lead the hard conversations. Tackle the big issues. We work every day to make Overland Park the best place to build a business, a career and a home.
(913) 491-3600  |  www.opchamber.org