FOR IMMEDIATE RELEASE
Contact: Stan Lawson, slawson@opchamber.org or (913) 766-7601
Overland Park Chamber Honors City Manager Bill Ebel with 2021 Richard A. "Rick" Worrel Community Legacy Award
Overland Park, Kan., December 3, 2021 – The Overland Park Chamber of Commerce today recognized Overland Park City Manager Bill Ebel with the 2021 Richard A. "Rick" Worrel Community Legacy Award.
Since Ebel was appointed Overland Park's fifth city manager in January 2011, Overland Park has experienced tremendous growth including redevelopment of the downtown, improvements along the Vision Metcalf corridor plus the addition of numerous mixed use and entertainment amenities throughout the city. Soon after becoming city manager, Ebel worked with frontline staff, supervisors and department managers to establish "Living OP," which focuses on six core values: integrity, service commitment, respect, stewardship, relationship building, and pursuit of excellence. Ebel has led the community through some of its most challenging times including the economic recovery following the Great Recession and, a decade later, the COVID-19 pandemic.
In nominating Ebel for the award, colleagues emphasized his qualities of being selfless, committed, ethical, inspiring, compassionate, modest, thoughtful and strategic. They noted he has devoted himself entirely to the future of his community, to the efficacy of its city government and to the welfare of its citizens.
Ebel co-chaired the Mid-America Regional Council (MARC)'s Regional Homeland Security Coordinating Council. Earlier this year, he was recognized with two distinguished industry awards: the American Public Works Association's Top Ten Public Works Leaders and MARC's Regional Leadership Award. Ebel retires as city manager in February 2022.
The Overland Park Chamber established the Richard A. "Rick" Worrel Community Legacy Award in 2019 to honor longtime community leader Rick Worrel and to recognize those who exemplify his legacy of lifetime service to the community. Worrel was co-founder of Affinis Corp and a longtime leader with the Overland Park Chamber of Commerce.
The award was presented to Ebel by Overland Park Chamber President and CEO Tracey Osborne Oltjen at the Chamber's 2021 Annual Meeting. The event also featured a keynote address by Mary C. Kelly, Ph.D., U.S. Navy Commander (Retired), economist, author and executive consultant.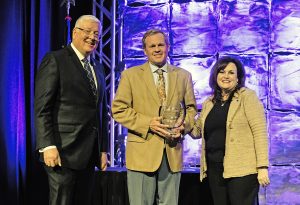 # # #
We bring people together. Lead the hard conversations. Tackle the big issues. We work every day to make Overland Park the best place to build a business, a career and a home.
(913) 491-3600  |  www.opchamber.org