Governor Laura Kelly Announces U.S. 69 Expansion and Modernization Project in Johnson County
On July 8, 2021, Governor Laura Kelly announced in Overland Park that the region's number one priority, the U.S. 69 Expansion and Modernization project – totaling a $300 million investment – has been committed to construction as part of the Kelly Administration's bipartisan transportation plan.
"This project will enhance accessibility, address long-term safety concerns, and relieve congestion to recruit new businesses and families to Johnson County," Governor Laura Kelly said. "Since day one, we've honored our commitment to ending the practice of using infrastructure dollars for projects they were never meant for – and instead use these dollars to directly fix our roads, bridges, and expand broadband access. Today's announcement is further proof that our commitment to good stewardship of these funds is benefitting our communities, taxpayers, and businesses."
Express toll lanes (ETLs) are a new-to-the-region strategy for managing congestion along busy highway corridors like U.S. 69. While the two existing lanes will remain free for drivers to use, the project will add a new, third tolled lane in each direction from 151st and 103rd streets, replace 50-year-old pavement and reconfigure interchanges at Blue Valley Parkway and I-435.
"This project improves traffic flow for all drivers on U.S. 69," said Secretary Julie Lorenz. "The Overland Park Council voted to use this approach to manage congestion and provide their local contribution through tolls. The Kelly Administration's transportation program is built on partnerships.  Communities across the state are providing a local funding contribution or phasing projects so their projects can be constructed sooner."
"I'm glad to join Governor Kelly, Secretary Lorenz, and Overland Park City Councilmembers as they take the next step on this project to expand US 69—a project that has been a longtime priority for our community. It's a team effort, and with the recent passage of the bipartisan INVEST in America Act through Congress, we are one step closer to bringing home additional federal funds for the US 69/167th Street interchange," said Rep. Sharice Davids. "I look forward to continuing my work in Congress to secure smart, sustainable infrastructure investments that create good-paying jobs here in the Third District."
"Commuters on U.S. 69 corridor are frustrated with increasing congestion and travel times," said Overland Park Mayor Carl Gerlach. "We must address these issues to keep the Overland Park community and economy growing."
Moving this project to the construction phase will take place as soon as preliminary engineering and right of way acquisition is complete. The U.S. 69 project is scheduled to be let for construction in fiscal year 2022 and open to traffic in 2025.
KDOT will turn to informing the public on what to use ETLs between now and when the project opens to traffic.
For more information, visit www.69Express.org or follow @69ExpressKS on Facebook, Twitter, YouTube and Nextdoor. Social media posts can be tagged with #69Express.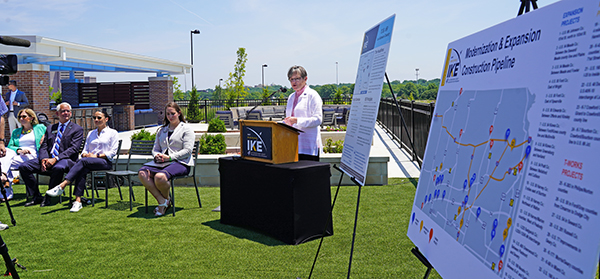 # # #
We bring people together. Lead the hard conversations. Tackle the big issues. We work every day to make Overland Park the best place to build a business, a career and a home.
(913) 491-3600  |  www.opchamber.org